<!TR> <!TD height=2><!IMG height=2 src="mpool/p.gif" width=178 border=0><!/TD><!/TR>

There are more than 80 museums in Munich. We have listed the most interesting museums on this page. A complete list you will find here.
Residenz Museum and Treasury
The former palace of the Bavarian princeelectors and kings. Splendid rooms from the renaissance, rococo, neo-classical periods and treasury.
Entrance: Max-Josephs-Platz 3
To the website of the museum
Cuvilliés Theater
The finest theater in rococo style in the world, designed by rococo master architect Francois Cuvilliés in 1753.
Entrance from the Fountain Court of the Residenz.
To the website of the museum
Nymphenburg Palace, Park and Marstallmuseum
Main palace with the famous Gallery of Beauties, three park palaces and a collection of Royal couches and sleighs.
Tram 17 from the main station to tram stop Nymphenburg.
To the website of the Museum
Bavarian National Museum
Bavarian artworks, furniture, clothes from the middle ages to the art nouveau period. World-famous collection of cribs.
Prinzgerentenstr.3
To the website of the museum
Munich City Museum
The 15-th century city arsenal houses now paintings, a city model, medieval arms and the famous Morris Dancers.
St.-Jakobs-Platz 1
To the website of the museum
Deutsches Museum
The largest technical and scientific museum in the world. The interactive exhibits make it to a gigantic playground.
Museumsinsel 1
To the website of the museum.
The Old Pinakothek
World-famous collection of paintings from the 14th through the 18th centuries - Dürer, Rembrandt, Rubens, da Vinci.
Barerstr.27
To the website of the museum
The New Pinakothek
German art from the 19th century and an excellent collec-tion of French Impressionists from the 18th/19th century.
Barerstr.29
To the website of the museum
The Pinakothek of Modern Art
Modern art of the 20th century (Picasso, Warhol), museums of architecture, design, graphic arts are also integrated.
Barerstr.40
To the website of the museum
Museum Brandhorst
Museum with more than 700 works of modern and con-temporary art of the Udo and Anette Brandhorst Collection.
Theresienstr.35a
To the website of the museum
USEFUL LINKS




Munich New Trade Fair



Airport Munich



Railway Information



Public Transport



Taxi Reservation


WEATHER IN MUNICH

<!Wettereinschub>
Present
temperature
Click for forecast

TIPS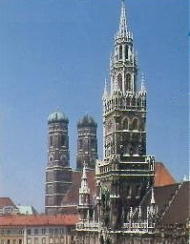 <!186>

* Munich's Top Ten *
Top ten things to do
when visiting Munich



<!war 3>
<!A href="http://www.reisebank.de/sixcms/list.php?_lang=en&page=en_homepage" target=_blank>

Main Train Station
Open Mon-Sun 7am-10pm