<!TR> <!TD height=2><!IMG height=2 src="mpool/p.gif" width=178 border=0><!/TD><!/TR>

Public Transportation in Munich
Using public transportation

Munich has an extensive public transportation system. It consists of a network of underground (U-Bahn), suburban trains (S-Bahn), trams and buses. Subway stations are marked with signs showing a white "U" on a blue background. The S-Bahn suburban lines are marked with a white "S" on a green background. Tram and bus stops are marked with a green "H" inside a green circle on a yellow background.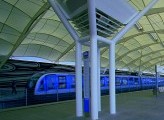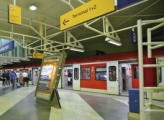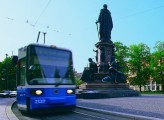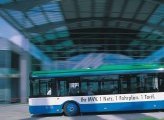 All S-Bahn suburban lines go through the city center and connect Munichs Central Station (Hauptbahnhof) to East Station (Ostbahnhof) with popular tourist destinations like Marienplatz and Karlsplatz in between.

The same ticket is valid for all these forms of public transportation.You don't need different tickets, if you move from train to tram to bus.

Tickets can be purchased at the blue vending machines, found at U- and S-Bahn-stations, at many tram and bus stops and newspaper kiosks. <!have a white "K" on display.>

Note: Before first embarking, the ticket must be validated - insert the ticket into the small stamping machines posted at the entrances to U- and S-Bahn tracks or on trams and buses. It's a € 60 fine if you are caught riding without a valid ticket.

<!When you have questions during you stay in Munich, >An information office of the Munich public transportation network (MVV), where English is spoken, is located at the Marienplatz Basement.


Tickets

There are different types of tickets: Single Tickets (called "Einzelfahrkarte"), Stripe Tickets (called "Streifenkarte") and Day Tickets (called "Tageskarte"). The rules how to use these different tickets are rather complicated.

Staying as a tourist in Munich Day Tickets are the best option. They are uncomplicated and mostly cheaper than Single or Stripe Tickets. These tickets allow for unlimited travel on all U-Bahn, S-Bahn trains, trams and buses from the time validated until 6:00 am the next day, 3 Day Tickets from the time validated until 6:00 am the fourth day.

You only need to choose between different types of Day Tickets.
Simply said: When travelling alone, choose the type Single Day Ticket. When travelling with at least one another person (friend, wife), choose the type Gruppen DayTicket (Groups Day Ticket). When you want to go by public transportation means only in Munich, choose the type Day Ticket inner zone or in case of a longer stay the type 3 Day Ticket inner zone. When you plan visiting places like Dachau memorial camp, Schleissheim Castle or Starnberg at Lake Starnberg choose the type Day Ticket XXL area. When you have to transfer from airport to the city centre or vice versa, choose the type Day Ticket entire network. Detailed information see below.

Types of Day Tickets:

Single Day Ticket inner zone (Single Tageskarte Innenraum) 6,70 EUR
Single 3 Days Ticket inner zone (Single 3-Tagekarte Innenraum) 16,80 EUR
Single Day Ticket XXL area (Single Tageskarte XXL) 8,90 EUR
Single Day Ticket entire network (Single Tageskarte Gesamtnetz) 13,00 EUR

Gruppen Day Ticket inner zone (Gruppen Tageskarte Innenraum) 12,80 EUR
Gruppen 3 Days Ticket inner zone (Gruppen 3-Tagekarte Innenraum) 29,60 EUR
Gruppen Day Ticket XXL area (Gruppen Tageskarte XXL) 16,10 EUR
Gruppen Day Ticket entire network (Gruppen Tageskarte Gesamtnetz) 24,30 EUR

Additionally a Single and Gruppen Day Ticket "Aussenraum" is offered (Single 6,70 EUR, Gruppen 12,80 EUR) only covering the area outside of Munich. If you have purchased a 3 Days Ticket inner zone and want to visit points of interest outside on one of these days you can buy it as a supplement.

The Single Day Ticket is good for a single person. The Gruppen Day Ticket is a family and group ticket. Up to five adults can travel together. Interesting for families: Two children aged 6-14 years count as one person (so 2 adults and 6 children can travel together on one ticket).

The Day Tickets inner zone (Innenraum) allow travels within the whole of Munich plus a number of neighboring districts (shown in white on the

network plan). The Day Tickets XXL cover travels within the inner zone and the city outskirts (white and green zone on the

network plan) including Dachau, Schleissheim, Starnberg at Lake Starnberg. The Day Tickets entire network (Gesamtnetz) cover travels within the entire Munich transportation network. This type is needed for transfers Airport - Munich City.


Alternatives to the Day Ticket: <!include the purchase of a>Single Ticket (Einzelfahrkarte) or Stripe Ticket (Streifenkarte).

They can only under special circumstances be cheaper than the Day Tickets, for example you arrive at Munich Central station in the evening and want to go by public transportation means to your hotel - only one trip. But note: Airport transfer is starting from two travellers cheaper with a Gruppen Day Ticket entire network.

Single Ticket (Einzelfahrkarte) good for one single trip in one direction, valid for three hours. Normal trip within Munich 2,90 €, for trips outside Munich the price is dependend on the zone of the destination.

There is also available a version of the single Ticket: the Short Distance Ticket (Kurzstrecke), good for up to four stops on all transportation means, but only two stops of these on U- or S-Bahn, valid for one hour: 1,50 €. Press the button at the vending machine marked "K" = Kurzstrecke

Stripe Ticket (Streifenkarte) can be used for several trips. Within Munich you must stamp two stripes. <!But the discount compared with Single Tickets ist not so high. So we advise, do not waste your time with the study of complicated rules to save just a few cents.> There is a small discount compared with single Tickets, you can save a few cents, but the handling is more complicated.


City Tour Card The City Tour Card cost a bit more than the Day Tickets. It serves the same purpose, but offers additionally discounts on some museums and tourist attractions.

More information

Bildnachweis: MVV GmbH
USEFUL LINKS




Munich New Trade Fair



Airport Munich



Railway Information



Public Transport



Taxi Reservation


WEATHER IN MUNICH

<!Wettereinschub>
Present
temperature
Click for forecast

TIPS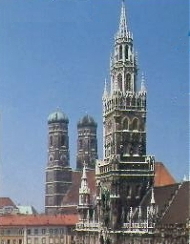 <!186>

* Munich's Top Ten *
Top ten things to do
when visiting Munich



<!war 3>
<!A href="http://www.reisebank.de/sixcms/list.php?_lang=en&page=en_homepage" target=_blank>

Main Train Station
Open Mon-Sun 7am-10pm